Thanks for sticking with us!
We sent you a text message with two 16-digit promo codes for free Cineplex movies! Pretty sweet, right? Each promo code is valid for 1 free movie pass. Here is how you redeem your free movies:
Step 1: Go to Cineplex.com
Step 2: Choose the screening time you want from the available options.
Step 3: If you already have a Cineplex account, click LOG IN. If not, click SIGN UP to register.
Step 4: You'll be given the option to enter a promo code. This is it! Enter the promo code you received via text from Virgin Plus here. Now click APPLY.
Step 5: Enjoy your free movie!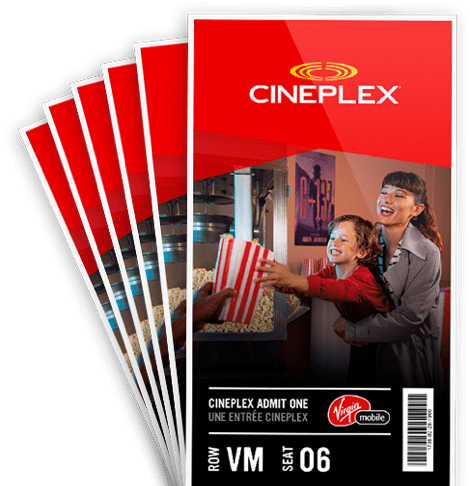 GOOD TO KNOW:
This offer is only valid to Members who received a text message about this promo from us.
All promo codes expire on May 31, 2018
This unique coupon code is VALID ONLINE ONLY at www.Cineplex.com/Promotions for one (1) free General Admission ticket between February 24, 2018 and May 31, 2018. Free General Admission offer applies to Adult, Senior or child admission tickets. An applicable surcharge per paid and/or free tickets will apply for IMAX®, UltraAVX®, UltraAVX®3D, D-BOX, Prime Seats, 4DX, VIP (19+) admission or Digital 3D presentation. Cannot be combined with any other promotion, coupon, voucher or special discount offer or redeemed for non-feature film screenings and Cineplex® Events presentations. Free General Admission tickets are valid for same day and same performance only. SCENE® points are not issued on free admission tickets. Paid admission tickets earn SCENE points as per standard earning terms. Offers cannot be redeemable for cash and are not valid for re-sale. NO TIME EXTENSIONS ARE ALLOWED. CONFIRM YOUR ORDER BEFORE PURCHASE. ONLINE TRANSACTIONS ARE NON-REFUNDABLE. ADDITIONAL RESTRICTIONS MAY APPLY. NO SUBSTITUTIONS.
GET DEALS ON AMAZING BRANDS.
If you're with us, you're a Member. Membership has its benefits like VIP access to deals from the hottest brands in fashion, food, music, travel and entertainment plus, shots at once-in-a-lifetime experiences.
See the latest deals