We see you got our special invitation to become a Member.
Make the switch to Virgin Plus with an offer exclusive to Lucky customers. Always stay connected with a hot new phone and a low monthly plan, plus enjoy awesome Member Benefits.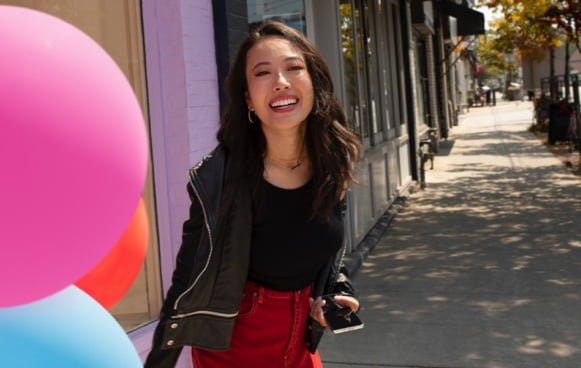 Look at all these exclusive offers on value-packed plans.
They all include unlimited Canada-wide Talk & Text unlimited International and US texting.
GOOD TO KNOW:
All plans include Call Waiting, 3-Way Calling and Voicemail 3. Call Forwarding will be charged at 25¢/min.
Plans with Canada-wide calling: Canada-Wide Calling applies to calls made from Canada to a Canadian number or calls received from any number while you are inside Canada.
Additional Anytime Minutes are 65¢/min. Long distance charges on calls to the U.S. are 65¢/min. in addition to your local per minute rate.
Plans with 4G LTE data speed may reach download speeds of up to 150 Mbps. 4G LTE plans provide the coverage and reliability of the LTE network. Speed and signal strength may vary with your device, configuration, Internet traffic, environmental conditions, applicable network management and other factors.
Unlimited Text & Picture Messaging is only valid when message is sent from Canada. Text messages sent within the U.S. or internationally, premium text messages, text alerts, messages sent with an instant messaging application and dial-up messages are not included in any plan and cost extra.
Unlimited Picture Messaging is valid when sent and received from Canada.
Standard out of country roaming and international long distance rates apply.
Monthly 911 fees apply in: AB (95¢), NB (97¢), NL (75¢), NS (43¢), PEI (70¢), SK ($1.95), QC (46¢), and NT ($1.70). Fees withheld will be remitted to the government.
Apps on your smartphone use data, too. If you want to avoid Pay-Per-Use data charges make sure to turn data off on your phone.
Picture messaging will only work if you have turned on data on your phone.
Data use over what is included in your plan is $15/100MB up to 800MB, $0.15/MB thereafter.
Pay-per-use rates apply to usage exceeding what's included in your rate plan. Subject to change over time. See a list of full additional usage charges and one time charges.
One-time connection service fee ($50) applies with new activations.
One of these cool phones could be yours.
Or bring a phone you love and get a plan with lots of data.
You get a lot when you get with us.
Deals on the hottest brands in food, fashion, and entertainment with Member Benefits.
Coast-to-coast connection on our super-fast, super-vast 4G LTE network.
Award-winning customer service that'll keep you smiling.
Take your data with you when you trot the globe with Roam Sweet Roam.
eChat with a sales rep.
Start a chat to shop online.
Monday to Sunday 7am – midnight EST
Chat with us
Call a sales rep.
1-888 285- 1876
Monday to Friday 8am-9pm EST
Saturday 9am – 6pm EST